legislation > trapping
KEY MESSAGE: Body-gripping traps are killing and maiming people's dogs.
WARNING: Graphic photos below.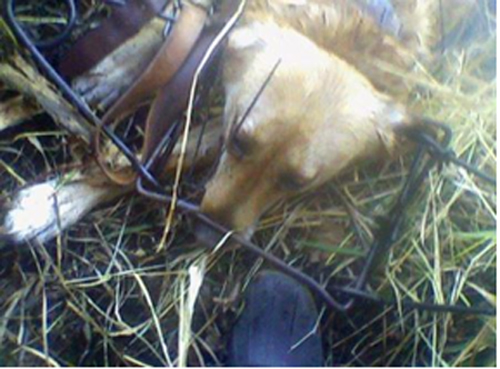 "Bronco" was a Minnesota yellow labrador caught by a 10" x 10" jawed beaver model
in a water trail. Two men couldn't pull the trap off. Bronco died; story is at link below.
STATUS: Bills were introduced in the 2015-2016 legislative session to protect dogs from being caught in body-gripping traps. The bills did not pass. To view language go to: Senate File 1325 and House File 1655
NOTE: This bill would have required body-gripping traps to be either fully submerged, placed in boxes (with specified size of the opening), or mounted five feet above the ground. Unfortunately, this language will not protect all species who are caught in these traps and suffer or die. However, it is an improvement on the current situation. If passed, the bills would have greatly reduced the number of dogs killed and maimed by body-gripping traps each year. Although this bill does not call for a general ban on trapping, it is a pragmatic step forward.
HEARING: To view the first hearing of Senate File 1324 on March 9, 2015 with testifiers, go to: Hearing Senate File 1325. Opposition for this bill has come from the Minnesota Trapping Association and the Forest Zone Trappers Association.
(This legislation was led by Dog Lovers 4 Safe Trapping with support from Sportsmen Take Action. Further details can be found on links below.)
WHAT ARE THESE TRAPS?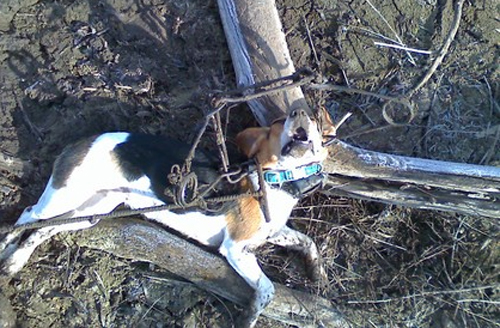 The traps are known as Conibear or body-gripping traps. As explained by Sportsmen Take Action: "Body-grip traps have 7" x 7" or 6" x 6" wide jaws (some jaws are 10" x 10") and are set vertically where a dog touches his or her nose to the trigger and the trap clamps over the head and cinches tightly behind the skull."
These traps are different from foothold traps, which are set to catch the animal by the foot (and the animal might try to chew off a limb to escape) or snares, which are steel cable nooses set to catch the animal by the neck.
The traps are set with smelly bait, attracting animals of varying sizes to it. Some trappers place body-grip traps in boxes or 5-gallon plastic buckets but a dog can still stick his or her head inside to get the bait.
Per Sportsmen Take Action: "Picture at right

shows how the body-grip trap is clamping on

the dog's muzzle. Unseen is how the other side of the trap jaws sink into the fur behind the head and reduce artery blood flow.

The springs are incredibly strong and

complicated to figure out. Some dogs live, but

most don't. Pictures like this are taken by

frustrated dog owners who have to wait for a

DNR Conservation Officer or sheriff to take

off the trap."

To view a video of a trap in action:

(WARNING - Video is disturbing but accurate and necessary view of problem. Produced by Dog Lovers 4 Safe Trapping MN)
To protect some animals (such as dogs and cats) and humans walking through the woods or along pathways, Senate File 1325/House File 1655 proposes language that would require the traps to be set in a safer manner.
Specifically, the bill would require body-grip traps to be either fully submerged, placed in boxes (with a specified size of opening), or mounted 5' above the ground. The bill would also require a person to report (within 24 hours) if a dog or collared pet is found in a trap. (Currently trappers are not required to report it.)

THE PROBLEM:
PAIN, SUFFERING AND DEATH OF DOGS CAUGHT IN TRAPS
The pictures below are of a Minnesota dog named Kobe, a husky.
In 2014, this dog was caught in a body-grip trap, restricting blood flow to the head. When found, Kobe's head had ballooned to three times its normal size, resulting in deafness in one of Kobe's ears and requiring surgery to remove both eyes.
"These traps by law only have to be checked every three days," explains Kevin Auslund from Sportmen Taken Action. "This allows more traps to be set during trapping season. Consequently, some individual trappers will have over 100 of these killing traps dotting the landscape."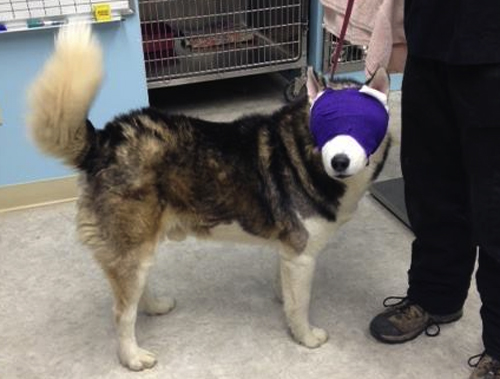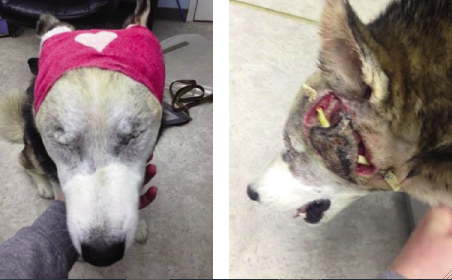 Kobe has been adopted and, though blind, is now doing well.
For the full story of Kobe, go to:
• Pine Journal: TRAPPED! Kobe's story spurs debate over need for updated trapping regulations

• KARE 11: Injured Dog at Center of Trapping Debate
Story of Bronco, who died:
• CBS local (12-18-2013) Hunter Asks For More Trapping Regulations After Dog Dies in Conibear
Traps continue to kill more dogs. Another victim: Lily
Lily was a 2-year-old chocolate Lab. The body-gripping trap that killed her last November was set in a ditch about 750 feet from the family's home in Pequot Lakes. Two weeks earlier Lily had given birth to eight puppies. Photos below are of Lily and her puppies;
and Lily killed by the trap.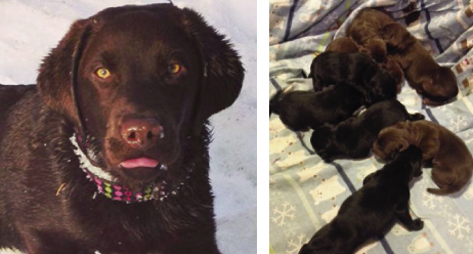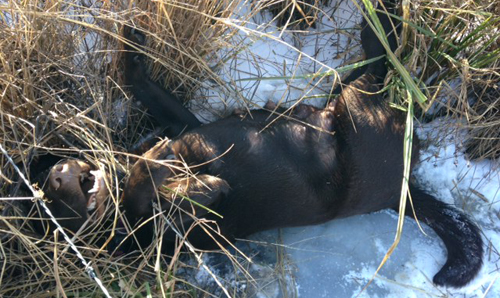 Story of Lily, who died: Bill in Legislature tries to save dogs from accidental trappings
For additional stories and information regarding this issue, go to:
A few articles:
• CBS local (11-13-2013) Body-grip traps restrict rescue searchers a great deal

• Star Tribune (1-14-2013) Number of dogs killed by traps concerns owners