resources > training: veterinarians
TRAINING FOR VETERINARIANS: ANIMAL CRUELTY

Animal Folks will be holding training on animal cruelty for veterinarians and veterinary technicians at the Minnesota Veterinary Medical Association (MVMA) Annual Meeting on February 14, 2018 in Rochester, Minnesota.
| | |
| --- | --- |
| Minnesota-licensed veterinarians are mandated reporters of animal cruelty. This session provides training, by local and national experts, for veterinarians to better identify, document, and report suspected animal cruelty with a basic overview of Minnesota animal cruelty and reporting statutes. Information also applicable to veterinarians who assist law enforcement during animal cruelty investigations. | |
This work is in collaboration with the MN Animal Cruelty Task Force Veterinary Advisory Committee and experts in the field of veterinary forensics.

Training details

Date: February 14 (this is the day before the MVMA Annual Meeting)

Time: 1:00 pm - 5:00 pm (sign-in is from 12:30-1:00pm)

Location: Mayo Civic Center

30 Civic Center Drive SE

Rochester, MN 55904

Room number: Suite 106

CE Credits: 4

Open to: DVMs and CVTs

Cost: Free if registered for MVMA Annual Meeting. $50 if not attending MVMA Annual Meeting. See registration below.

Title: Minnesota Veterinary Training: Identifying, Documenting, and Reporting Animal Cruelty

Objectives:

• Understand the role of veterinarians in the reporting of suspected animal cruelty

• Gain working knowledge of Minnesota animal anti-cruelty laws

• Recognize the most common types of suspected animal cruelty

• Learn how to document suspected animal cruelty

• Learn how to handle suspected animal cruelty within a practice

Topics and Speakers in chart below.

Time
Topic
Speaker

1:00-1:20pm

Animal Cruelty Reporting:

A Multi-Disciplinary Approach - The Minnesota Process

Ann Olson, Founder/ED, Animal Folks

1:20-2:10pm

MN Animal Cruelty Statutes:

An Introduction

Reese Frederickson, Pine County Attorney

2:10-2:20pm

BREAK

2:20-3:50pm

Suspected Animal Cruelty: Recognition and Documentation

Melinda Merck, DVM, owner, Veterinary Forensics Consulting;

author, Veterinary Forensics—Animal Cruelty Investigations

3:50-4:00pm

BREAK

4:00-4:50pm

continued—presentation title above

Melinda Merck, DVM

4:50-5:00pm

Wrap-up & Resources

Ann Olson

To Register: Online registration is now closed; however, you may call the MVMA directly at 651-645-7533 to register for this training. All registration ends at noon on Tuesday, February 13.

For other information (e.g., hotels, parking, conference details and topics):
Thank you to the MVMA who is generously providing space at their convention for this training, and coordinating all registration.
Reporting Animal Cruelty: Establishing Protocols

Veterinarians are on the front line of animal cruelty. Veterinarians in Minnesota and their staff need to know:

• how to identify animal cruelty;

• how to report animal cruelty; and

• the role each person can play in the prevention of animal cruelty and breaking the cycle of violence.

With the help of local and national experts in the field of animal forensics, Animal Folks has created a manual for veterinarians to develop reporting protocols in their clinic or veterinary practice. Below is a link to this manual.

Printed copies are also available; please contact Animal Folks directly for information on how to obtain printed copies.

LINK: Reporting Animal Cruelty. The Role of the Veterinarian: Establishing Protocols to Identify and Report Suspected Animal Cruelt in Minnesota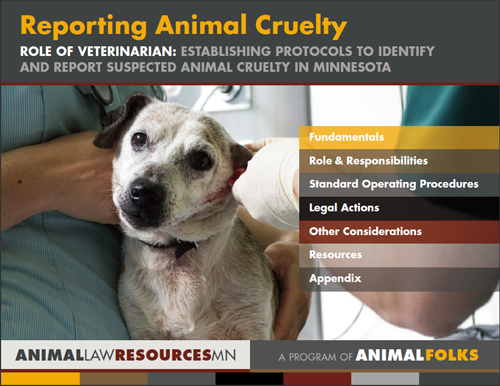 Supporting Materials

In the printed version of the above manual, supporting materials are also provided as part of the Appendix. One example is a Q&A sheet on Forensic Necropsies. Below is a pdf of that 6-page sheet. (This sheet was originally written for law enforcement but can also be used by veterinarians.)

LINK: Forensic Necropsy - Description and services (University of MN - VDL)
______________________________________________
Training Conference: Animal Folks booth

Animal Folks will have a booth at the 2018 MVMA convention with training materials. Please stop by!