resources > training: veterinarians
TRAINING FOR VETERINARIANS: ANIMAL CRUELTY

Animal Folks is hosting training on animal cruelty for veterinarians and veterinary technicians at the Minnesota Veterinary Medical Association (MVMA) Annual Meeting in February 2017 in Minneapolis, Minnesota.

Training on Feb. 22 and Feb. 23 were a success! Details to come.

Animal Folks has a booth all week at that MVMA Conference. Come see us!
Animal Folks has identified the need for training on this topic and is working in collaboration with the Minnesota Animal Cruelty Task Force Veterinary Advisory Committee and nationally-recognized experts in the field of veterinary forensics.

Thank you to the MVMA who is generously providing space at their convention for this training, and coordinating all registration.

For link to Animal Cruelty Reporting manual, scroll down. NOTE: Manual was updated on 05-08-16 and again updated as of 1-31-17.
Two training sessions. Details below.

For information on the MVMA convention: MVMA 120th Annual Meeting
• Full Day session

Full day training Feb. 22 was a success! Over 100 people in attendance. Details to come.

Topic: Animal Cruelty Investigations: The Role of the Veterinarian

CE: 9 credits

Date: February 22, 2017

Time: 7:30am - 5:00pm

Place: Hyatt Regency in Minneapolis, MN

Targeted to: Veterinarians who choose to assist law enforcement in animal cruelty cases in Minnesota. Also open to CVTs.

Description: When animal cruelty complaints are investigated, law enforcement will often turn to veterinarians for their assistance and expertise. This full day session will prepare veterinarians to assume that role. Focus is on hands-on training with a format of lectures and a mock trial. Learn how to identify animal cruelty, how to process a crime scene for small animals and equines, and how to prepare for court. Instructors include nationally recognized and Minnesota-based experts in veterinary forensics, animal cruelty investigation, prosecution and court procedures. Agenda:

TIME

PRESENTATION TITLE

SPEAKER

7:30 - 8:00AM

CONTINENTAL BREAKFAST

Provided

8:00 - 8:20AM

Welcome;

A Multi-Disciplinary Approach to the Enforcement of Animal Law

Ann Olson,

Executive Director, Animal Folks

8:20 - 9:00AM

Basics: Minnesota Animal Law

Louise Dobbe, Esq.,

former MN Assistant Attorney General, former Assistant County Attorney in Ramsey and Washington Counties (MN)

9:00 - 10:15AM

Veterinary Forensics: What Does Animal Cruelty Look Like

- The Forensic Medical Evaluation

- Classifications of Animal Maltreatment

Laura Niestat, DVM, Forensic Veterinarian, ASPCA Animal Hospital New York

10:15 - 10:30AM

BREAK

10:30AM - 12:00PM

Processing a Crime Scene:

The Role of the Veterinarian

- Identification, Collection, and Preservation of Evidence

- Hoarding: The Gowanus Rabbits

• Dr. Nicole Eller, DVM, Field Shelter Veterinarian, Field Investigations and Response, ASPCA

• Laura Niestat, DVM,

see above

12:00-1:00PM

LUNCH

Lunch not provided; restaurants are in hotel and nearby

1:00 - 1:25PM

The Role of Veterinary Professionals in Cruelty Cases: Why Get Involved?

Randall Lockwood, Ph.D., ASPCA, Sr. V.P. Forensic Sciences and Anti-Cruelty Projects

1:25 - 1:50PM

See You In Court: How Veterinarians Can Make A Difference in The Prosecution of Animal Cruelty Cases

Reese Frederickson, Esq.,

Pine County Attorney

1:50 - 2:15PM

Debunking The Process: Tips for Training the Prosecutor

Michelle Welch, Esq.,

Senior Assistant Attorney General, State of Virginia; Director, Animal Law Unit at VA Attorney General's Office

2:15 - 2:30PM

BREAK; Setup for Mock Trial

2:30 - 5:00 PM

Mock Trial

Co-Moderators:

Dr. Lockwood and Michelle Welch, with multiple participants including speakers above and Gordon Shumaker (retired judge, MN Court of Appeals and MN District Court), Sergeant Lindsay Herron, and Dr. Lisa McCargar

• 75-minute BREAK-OUT SESSION

Training held Feb. 23 was also a success! Details to come.

Topic: Animal Cruelty and the Link to Human Cruelty

Speaker: Randall Lockwood, DVM

Speaker: Laura Niestat, DVM, Forensic Veterinarian, ASPCA Animal Hospital New York City

CE: 1.5 credits

Date and time: February 23, 2017 10:45am - 12:00pm

Place: Hyatt Regency in Minneapolis, MN

Targeted to: All DVMs and CVTs

Description: It is well documented that cruelty to animals can also be linked to child abuse, elder abuse and domestic violence. This session will discuss the relationship between animal cruelty and human cruelty, how to identify animal cruelty, and what veterinarians and technicians can do when they suspect animal cruelty has occurred.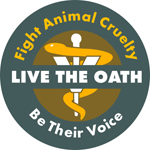 Reporting Animal Cruelty: Establishing Protocols

Veterinarians are on the frontline of animal cruelty. Veterinarians in Minnesota and their staff need to know:

• how to identify animal cruelty;

• how to report animal cruelty; and

• the role each person can play in the prevention of animal cruelty and breaking the cycle of violence.

With the help of local and national experts in the field of animal forensics, Animal Folks has created a manual for veterinarians to develop reporting protocols in their clinic or veterinary practice. Below is a link to this manual. Please read and share with colleagues.

Printed copies are also available; please contact Animal Folks directly for information on how to obtain printed copies.

LINK: Reporting Animal Cruelty. The Role of the Veterinarian: Establishing Protocols to Identify and Report Suspected Animal Cruelt in Minnesota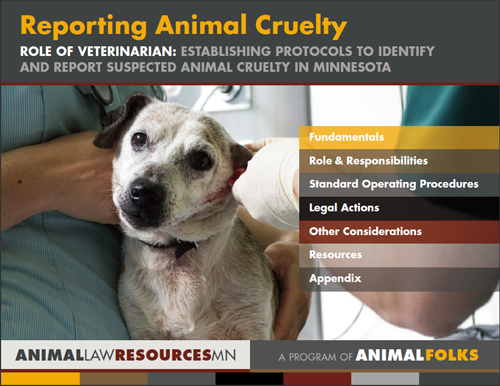 Supporting Materials

In the printed version of the above manual, supporting materials are also provided as part of the Appendix. One example is a Q&A sheet on Forensic Necropsies. Below is a pdf of that 6-page sheet. (This sheet was originally written for law enforcement but can also be used by veterinarians.)

LINK: Forensic Necropsy - Description and services (University of MN - VDL)
______________________________________________
Training Conference: Animal Folks booth

Animal Folks has a booth at the 2017 MVMA convention with training materials. Please stop by!