issue > overview
history: commercial dog and cat breeding
KEY MESSAGE: Commercial dog and cat breeding got its start in the 1940s. It's concentrated in the Midwest.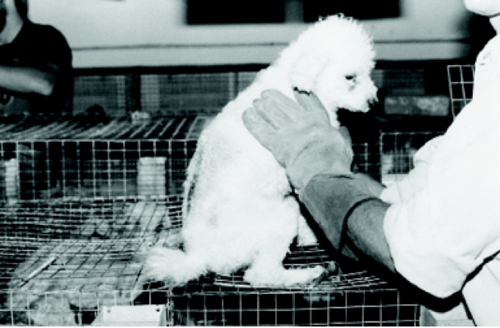 Photo from a breeder/farmer in Becker County in 1992. 275 dogs were seized. Farmer stated: "I was trying to get out of diary and into dogs because the dogs were easier to make money from." (Note hair and skin removed from back of dog due to small caging.)
HISTORY
The 'commercial' breeding of dogs and cats (i.e. mass production of puppies and kittens for sale to retail stores or directly to consumers) started after World War II (1945).
To help poor farmers supplement their income, the U.S. Government, through the United States Department of Agriculture (USDA), encouraged farmers to raise dogs, even though many farmers lacked a knowledge of canine health. Many of these farms were located in the Midwest.
As shown on the map below, the highest concentration of commercial breeding facilities is in the Midwest - red being the highest, then yellow. (Other states may still have breeding facilities but are not recognized as promoting a "breeding industry." Missouri tops the list for number of kennels, followed by Iowa. Minnesota does not have the most breeding kennels, but is known for some of the largest with over 900 dogs and puppies.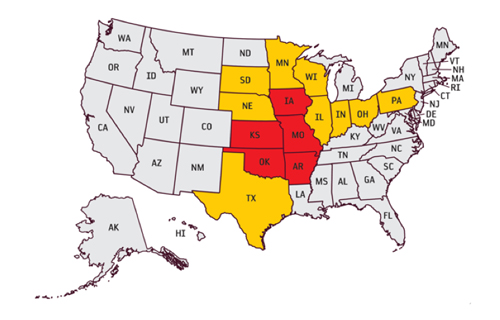 Some farmers started breeding, keeping dogs and cats in existing rabbit hutches or chicken pens. Animal brokers and carriers also 'saw money', and set up a distribution system for transport and sales. Soon major department stores and pet shops across the United States were selling puppies and kittens.
Even novelty songs were written romancing the puppies in pet stores. In 1952, Bob Merrill wrote "How much is that doggie in the window? The one with the waggley tail? How much is that doggie in the window? I do hope that doggie's for sale." Consumers were, and still are, unaware of where many puppies are produced and in what conditions.
INDUSTRY GROWTH
The Humane Society of the United States (HSUS) estimates there are approximately 10,000 puppy mills (licensed and unlicensed) in the United States. It's also estimated that over 2 millions puppies sold annually originated in puppy mills — USDA licensed and non-USDA licensed. For a sheet on puppy mill research (compiled by HSUS), including puppy mills facts and figures, severe USDA violations and other items, go to:
Dog and cat breeders and brokers who are licensed by the USDA are inspected by the USDA and required to follow Animal Welfare Act standards. Violations (those seen and recorded) are reported on USDA inspection reports. Some of these violations are photographed by the USDA. The ASPCA has created a website with some of these photos (see link below). Animal Folks MN has, for years, also requested these photos through FOIA for use in cases where animal cruelty is suspected.