issue > pet stores > local ordinances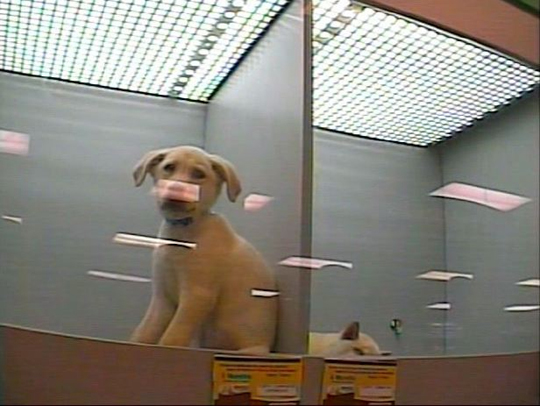 UPDATE: On March 13, 2017, the City of Roseville became the first city in Minnesota to pass a humane pet store ordinance that bans pet stores from selling dogs and cats obtained from commercial breeding facilities and promotes partnering with local animal rescues and shelters to host adoption events. The ordinance became effective 180 days later (in September 2017). Thank you to the Roseville City Council and city manager for their thoughtful discussion and action on this issue.
• LINK: Meeting agenda and notes from March 13: Click on Pet Stores link marked at 6:30pm.

• LINK: Final ordinance: Roseville Recently Adopted Ordinances - look for 1519 Pet Store Ordinance
Animal Folks worked closely with city residents, the City of Roseville, the Animal Humane Society, and HSUS to get the pet store ordinance introduced and passed in Roseville.
Animal Folks was able to document and testify to the fact that the Har Mar Pet Store, located in Roseville, had obtained puppies from a Minnesota breeder (Menning Enerprises) with over 900 dogs and puppies and four Iowa breeders, one of whom has over 500 dogs and puppies. Animal Folks had also filed a cruelty complaint against this pet store due to the USDA inspection report citing violations of law (harm to animals), a past USDA warning, and numerous complaints filed by citizens over multiple years.
While given the opportunity to switch to a humane pet store model, this store did not. In December 2017 the Har Mar Pet Store closed permanently and it appears their store website is no longer active. UPDATE: The store owner now has a state license in Wisconsin to breed and sell dogs. Our Wisconsin colleagues are aware of this.
Photos above of Har Mar Pet Store front and interior.
Local government action
Communities in the United States, Canada and Europe have recognized the problem of breeding facilities that mass produce puppies and kittens that are sold through pet stores to unsuspecting consumers.
To address this problem, communities across the United States have passed ordinances that provide a "humane pet store model." This model focuses on two core concepts:
1. Prohibit pet stores from selling dogs and cats acquired from commercial breeding facilities;

2. Allowing pet stores to host adopton events with animal shelters and rescues.
The humane pet store model is business-friendly, allowing pet stores to sell quality products and services and host pet adoption events at their store in conjunction with area shelters and rescues. These adoption events not only help decrease pet overpopulation and homelessness, they also encourage consumers who adopt an animal to purchase the products and services they need from the pet store.
The model does not impose unduly regulations and inspections, therefore, it is not a costly burden for the city.
Why it is needed
The purpose of the ordinance is to respond to the concerns of the community in regard to the conditions of animals in pet stores — in a way that addresses the systemic nature of the problem, which includes the origin of the puppies and kittens arriving in pet stores for sale. The humane pet store model will:
• protect animals from neglect and cruelty — in pet stores and in mass commercial breeding facilities where dogs and cats are acquired;

• protect consumers from economic and emotional harm when a sickly animal is purchased or when they unknowingly support a cruel industry;

• encourage the public to adopt homeless animals or seek out reputable breeders who take excellent care of their dogs and cats;

• lessen the burden on law enforcement and other authorities who must repeatedly respond to cruelty complaints and noncompliant conditions; and

• uphold the values of residents and promote the city as a humane community.
Ordinances passed nationwide
Below is a link to jurisdictions with retail pet store bans:
As of December 2017, over 240 jurisdictions have passed humane pet store ordinances. Chart below reflects enacted ordinances as of 5/24/17 based on data provided by Best Friends Animal Society (link above).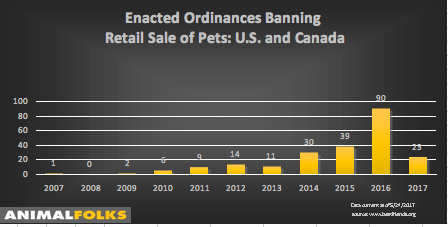 City council members and authorities across the U.S. are responding to this issue.
"People buy small animals all the time as an impulse buy, don't know what they're getting into, and animals end up at the shelter and often are euthanized," said Sally Stephen, chairwoman of San Francisco's Commission of Animal Control and Welfare.
San Francisco Chronicle
"We don't want to put anyone out of business," said Diane Sauve, Animal Care and Control, Palm Beach County. "However, it is very reasonable that we prohibit animals coming into our county that we know are coming from areas that perpetuate the suffering of animals."
Palm Beach Post, September 9, 2016
"We don't want to be part of the problem. We want to be part of the solution. We want to make it more difficult to sell puppy mill animals and easier to adopt our wonderful animals out of the shelters," said Los Angeles City Council man Paul Koretx
ABC News, Los Angeles
"I very much wanted to have this in place," Mayor Ann Subrizi said about the law. "When you buy a dog or cat, it becomes part of your family. Knowing the background of puppy mills and kitten mills, it seems like a cruel way for them to start their lives."
NorthJersey.com, September 29, 2016
ARTICLES: HISTORICAL
Below are links to a few articles about banning the retail sale of dogs and cats.
NOTE: These links are older (historical).
• YouTube: Landmark Legislation to Ban Sale of Dogs and Cats in Pet Stores Passed in West Hollywood, California

• No pups for sale? Cities ban pet shops (dog and cat sales)

• CANADA: BC Court upholds Richmond's ban on the sale of dogs in pet stores!