issue > pet stores > lawsuits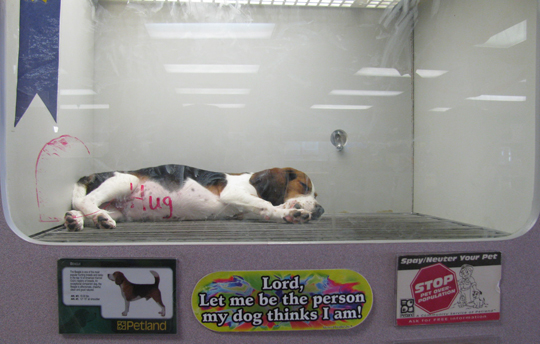 Lawsuit: ALDF against Petland
In July 2017, the Animal Legal Defense Fund (ALDF) filed a consumer class action lawsuit against the Petland chain, and its location in Kennesaw, Georgia, for racketeering.
The lawsuit alleges that Petland sold sickly puppies from large-scale commercial breeding facilities to consumers at inflated prices. The lawsuit also states that customers are paying higher prices so the chain can include phony services that are of no true benefit to the customer or the animal.
ALDF's lawsuit alleges that customers are led to believe that paying a higher price means they are getting a "certified" health puppy, even though a number of consumers have reported receiving sickly animals that, in some cases, have died or ended up with extensive medical bills.
This case is still in the courts; no decision made yet. Please check back for updates.
The Hunte Corporation
The Hunte Corporation was one of the largest dealers of dogs in the United States. Some Minnesota dog breeders bred puppies and sold directly to The Hunte Corporation who, in turn, sold and shipped the animals to Petland pet stores throughout the United States. (Petland is one of the largest pet store chains in the nation.)
NOTE: It is reported that the majority shareholders took over The Hunte Corporation, and the name has been changed. Many of these shareholders are large breeders.
A few Minnesota breeders who have sold to the Hunte Corporation (not all are listed below) include:
• Leroy Yoder (Utica, MN), USDA-license: 41-A-0443

• Sue Boyd (Brook Park), USDA license: 41-A-0232

• Michelle Sonnenberg (Detroit Lakes, MN), USDA license: 41-A-0021

• Tina Moore (Detroit Lakes, MN), USDA license: 41-A-0456

• John Renner (Detroit Lakes, MN), USDA license: 41-A-0248

• Kathy DeVries (Chandler, MN), USDA license: 41-A-0292

• Shawn Eckert (Frazee, MN), USDA license: 41-A-0422

• Gerald Wensmann (Melrose, MN), USDA license: 41-B-0155

• Barb Hubner/Lorie Hunt (Pipestone, MN), USDA license: 41-A-0323

• Jim DeNeui (Clinton, MN), USDA license: 41-A-0407

• Paul De Neui (Wheaten, MN), USDA license: 41-A-0445
NOTE: Some USDA licensees above are no longer active.
Example of a Certificate of Veterinary Inspection (CVI) that shows selling and shippment of dogs from a MN breeder (Sonnenberg) to Hunte Corporation. Certified veterinarians are required to inspects these animals and sign these certificates prior to shipment. The veterinarian on this CVI and for this breeder is Dennis Lange.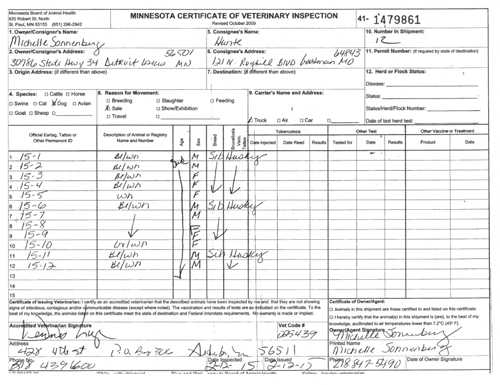 Lawsuit: HSUS vs. Petland and The Hunte Corporation
In 2009, members of the Humane Society of the United States (HSUS) filed a class action lawsuit alleging that Petland, Inc. and The Hunte Corporation were conspiring to sell unhealthy puppy mill puppies to unsuspecting consumers in numerous states.
A judge (federal district court in Arizona) dismissed the lawsuit, ruling delivered on August 7, 2009; however, in January 2010 an Arizona U.S. District Court Judge issued an opinion agreeing that two of the plaintiffs suing Petland can proceed with their cases (suing under RICO statutes). The plaintiffs allege that they received "specific representations by individual Petland employees that their puppies either were healthy or not bred at a puppy mill." Links:
• Lawsuit Against Petland (pdf)

• Response by Petland: An Open Letter to the Editor (originally posted at www.petland.com; link removed from Petland website)

• Animal Law Coalition: Petland and Hunte Corp. Accused of Illegal Business Practices
NOTE: The Hunte Corporation has also received at least two Rural Development Business and Industry Loans from the USDA. As researched and quoted by Prisoners of Greed:
"We submitted a Freedom of Information Act request to the USDA for copies of the loans given to The Hunte Corporation [of the papers received, much of the information was redacted]... It appears that the company originally asked for $750,000 on July 5, 2000 but increased that amount to $2.8 million. That loan is due in 2010. Then in September 17, 2001, they received another loan for $900,000 which was due in 2008. They may have received ealier loans in 1996. According to the loan documents, these $3.5 million dollar loans were secured by accounts receivable and inventory. The papers say that, in 2002, The Hunte Corporation had 150 employees and $26 million dollars in sales."
Lawsuit: ALDF against Barkworks
In September 2011, the Animal Legal Defense Fund (ALDF) filed a class action lawsuit against Barkworks, a southern California pet store chain, "claiming the stores repeatedly engage in fraud and false advertising in an effort to conceal from customers that they source their puppies from abusive "puppy mills" — large-scale commercial dog breeding facilities.
For further information: ALDF posting about lawsuit
NOTE: At least one Minnesota breeder (USDA and state-licensed) sold to Barkworks.
Consumer stories
Animal Folks MN is conducting a study, collecting stories from consumers who have purchased an unhealthy dog or cat from a Minnesota pet store or sourced back to a Minnesota breeder or broker. If you have a story you are willing to tell, please contact us directly at Animal Folks MN or submit your story online at Tell Story.
Report it: File a complaint
If you witness unhealthy or questionable conditions at a pet store in Minnesota or have purchased a sick pet, please report it. No legal action can be taken without your compliant being filed. To learn who to contact, go to: Report It.