issue > breeder > rowell
NEWS: On June 27, 2017, Animal Folks, in conjunction with the Animal Humane Society and Steve and Denise Sterling (property owners in and taxpayers of Cass County), sued the Minnesota Board of Animal Health for violation of the Commercial Breeders Licensing and Enforcement Law, known as the Commercial Breeder Law, by granting a state license to dog breeder Deborah Rowell who was convicted of cruelty against animals. Story explained below. The Minnesota Commercial Breeder Law states the Board must refuse to issue a license to a commercial breeder who has been convicted of cruelty to animals (Minn. Stat. sec. 347.58 subd. e2).
For further explanation of the lawsuit, go to: Lawsuit: BAH
NOTE: The information presented below is a brief overview of this dog breeder story. Additional legal documents and photos are available.
CASE: Pine River Dog Breeder Deborah Rowell
This case involves a USDA licensed dog breeder (Deborah Rowell) located in Pine River, Minnesota. The name of the breeding kennel is Country Pride Kennel.
Over 120 dogs and puppies were seized from this breeder in July 2013 through an investigation conducted by the Cass County Sheriff Office. The animals were not returned.
Multiple charges for animal cruelty were filed; the breeder pleaded guilty to one count (a misdemeanor — failure to provide proper shelter and shade).
In 2012 and 2013, Animal Folks filed multiple complaints with law enforcement against this dog breeder for suspected animal neglect and cruelty.
These actions — the complaint — is where the legal process begins so that law enforcement has sufficient reason to investigate and the animals can be protected.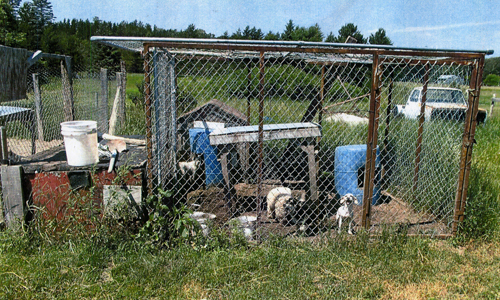 Exhibit 26 from investigation. Photo of dog pen at Country Pride Kennel in Pine River, MN, owned and operated by Deborah Rowell. Kennel typically housed 120+ dogs and puppies.
It all starts with a complaint
Based on the jurisdiction (where the breeder is located), Animal Folks first filed a 200+ page complaint with the Pine River Police Department (and City Attorney), who chose not to act because this breeder is "USDA licensed." (USDA is the United States Department of Agriculture. Those with a USDA license must follow the Animal Welfare Act, a federal law.) But federal law is separate from Minnesota law. Breeders must also be compliant with State and local laws.
To ensure the enforcement of Minnesota laws, Animal Folks filed the same complaint and two more with the Cass County Sheriff who agreed to conduct a full investigation.
These complaints were possible due to the courage of a few rescue groups, a local humane society and citizens. They are (by permission):
• Tracie Allen

• Kathy DuVall, Fairieland Corgi and German Shepherd Rescue

• Morrison County Animal Humane Society

• Jean Beuning and Karen Marquardt, Minnesota Sheltie Rescue

• Amanda Libby and Jim Block
Because they were willing to speak up based on what they knew and saw, Animal Folks was able to create affidavits and gather veterinarian records and photos of the hurt or sickly animals surrendered and/or sold from this kennel.
| | |
| --- | --- |
| As this breeder was also licensed by the USDA, Animal Folks requested USDA inspection photos and compiled USDA inspection reports that showed noncompliances over multiple years, including one official USDA warning for lack of proper shelter. | |
Two photos below are from USDA inspection reports in October 2010. USDA records indicate that the status of Rowell's federal license was cancelled as of September 23, 2014. As of this date, Rowell no longer operates with a federal USDA license.
As stated above, requirements for a federal license are separate and different from requirements for a state license. Conditions displayed here (as described per Animal Folks' complaints to law enforcement and the resulting sheriff investigation) were present when this breeder was operating with a federal license.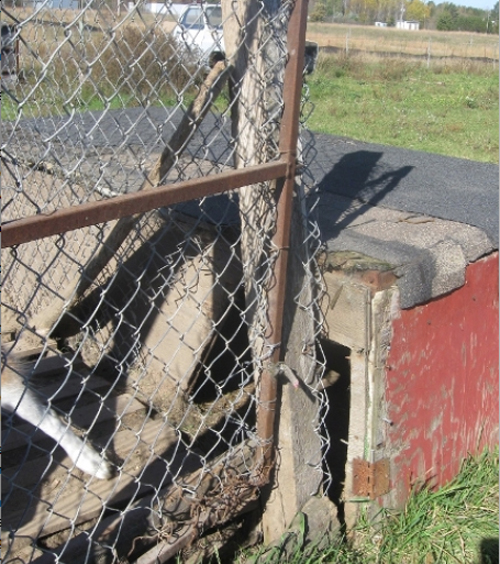 Animal Folks also submitted data requests to local law enforcement for complaints filed against this dog breeder by other citizens in past years, which indicated a pattern of chronic neglect.
For submittal to law enforcement, we also compiled scientific studies and resources showing the physical and psychological harm to animals due to lack of proper care.
The above, and other documents, provided sufficient evidence and information for Animal Folks to write a formal complaint against this breeder and suspect possible violation of multiple Minnesota laws, including Chapter 343 (Prevention of Cruelty to Animals), Chapter 346.39 (Pet and Companion Animal Welfare Act - Dog and Cat Standards), Chapter 325F.791 (Consumer Protection - Pet Lemon Law), etc. These are existing Minnesota laws and needed to be enforced.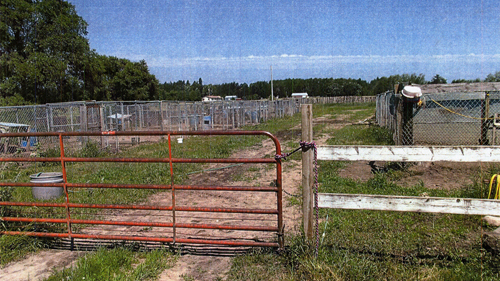 Exhibit 10 from investigation. View of kennel area where many of the dogs were kept - exposed to outdoor elements, such as high summer and freezing winter temperatures.
Animal Folks requested an investigation.
Step one was gathering the research and compiling the data for the complaints. Step two involved submitting each complaint to law enforcement with a request for action.
FURTHER DETAILS : PINE RIVER DOG BREEDER CASE
Bobbie was in the worst condition.
She was a German Shepherd Dog, about seven years old and used for breeding. When rescued from this breeding kennel, Bobbie was what we would define as a puppy mill dog: physically and psychologically damaged.

Photos of Bobbie showing emaciation and difficulty walking; tail was ripped off.
Bobbie was one of 12 dogs in the first complaint — given by the breeder to a local rescuer/citizen who then collaborated with the local humane society. They said Bobbie was the worst they've seen. Bobbie was so emaciated that she could barely walk and, when she did, would frequently fall. Her teeth were rotted and some teeth were missing. Her hair was filthy with urine and feces embedded in it, and her nails were excessively long (not clipped). It was apparent that she had some neurological problem. She trembled a lot and had frequent leg spasms. Her belly and mouth were full of tumors, which had not been treated and, it was believed, may have contributed to her starving. Bobbie's ear was torn and her nipples, too, were torn at the base with scabs and infection. Bobbie's tail had also been ripped off.
Other dogs in the complaints were also in bad shape and the rescue groups and consumers ended up paying for the care and treatment of each animal.
The above dog — named Squirt and then re-named Gert — was also part of the original rescue and complaint. When rescued, this dog, a Schnoodle, was about 7 years old; a breeding female. She smelled and her hair was yellow in color; it is suspected this was due to lying in urine. Hair was missing from the top of her nose, which was said to be due to frostbite. As with the other dogs, she had dental disease and was not house-trained. Her mental damage was severe — shook when touched, sat with blank stares, and would urinate out of fright when picked up. She was eventually adopted and is now living in a loving home. The above photos are before and after — left photo (before; a few days after rescue from the kennel) and right photo (after adoption and many months of care).
Other stories: If you attended the Speak Up Rally (for the Dog and Cat Breeder Bill) at the Minnesota State Capitol in February 2013, you may remember a story told about a German Shepherd Dog who, too, was emaciated, her mouth had been torn, her ear torn, she was full of worms and parasites and she was psychologically broken. That dog, named Gemini, was from this breeding kennel. She, too, was described in the first complaint. (Gemini's story can be found at Fairieland Corgi and German Shepherd Rescue.)
Three of the Shelties, also in the first complaint, were so psychologically damaged "they acted as if they were catatonic — crouching in the corner and urinating out of fear. They also hid feces under their bedding and were fine with dogs but fearful of people."
The breeder stated, as reflected in the affidavits, that she had received these dogs and some other dogs from another breeder. But she also stated (in writing) that, even though she had the dogs for at least a year, she had not brought them to a veterinarian for care.
Investigation and Seizure
The complaints from Animal Folks provided probable cause of animal cruelty, providing reason for the kennel to be investigated.
The Cass County Sheriff Office followed up on the information and collected additional evidence to obtain a search warrant. The search warrant was executed on July 16, 2013 by the Sheriff Investigator and his team, including the Animal Humane Society. Violations of Minnesota law were seen and recorded, including lack of proper shelter, lack of sanitation, lack of shade, lack of potable water, lack of ventilation and other violations.

The photo to the right shows a dead mouse floating in one of the water buckets.
The investigative team also found a Golden Retriever in one of the outdoor dog houses, dead and rotted with maggots. When asked at one of the civil hearings about this dog, the breeder's daughter stated that they smelled something but thought it was a dead rodent. Photos below show this dog decomposed, entered as evidence.
Photos below are some additional photos taken on the scene and submitted as evidence at the civil hearing to support the seizure of the animals.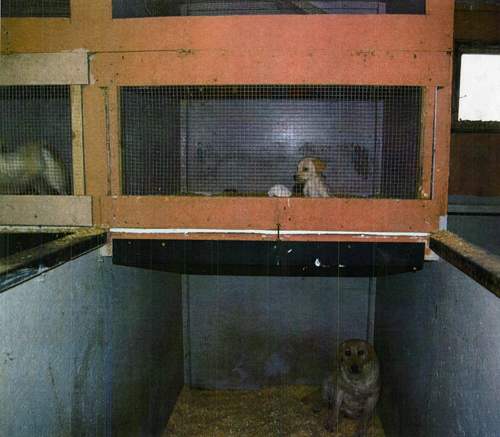 Photos above and below are from the investigation. The whelping building.
Lack of proper ventilation and lighting. High temperatures (97 degrees).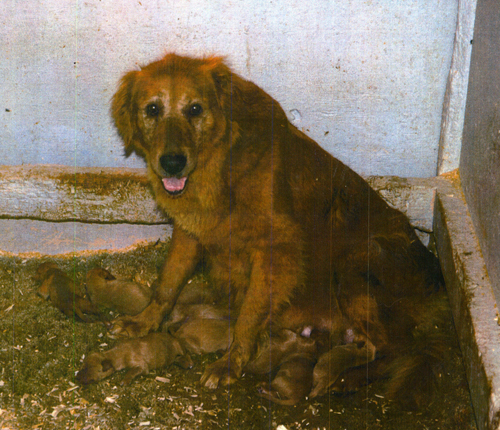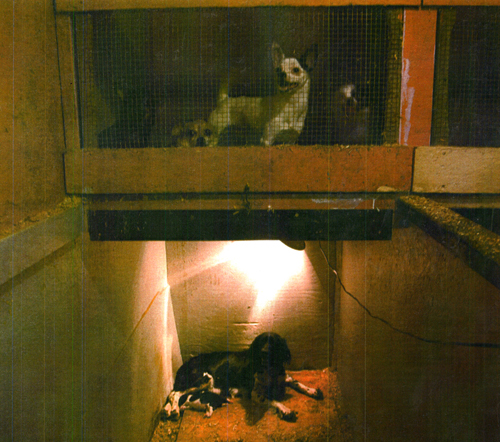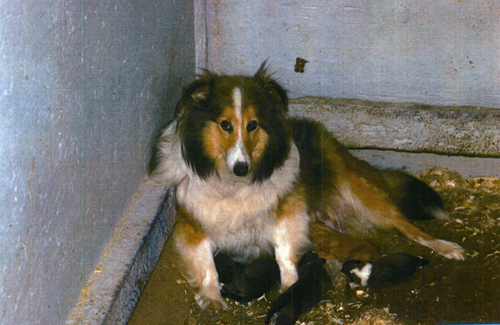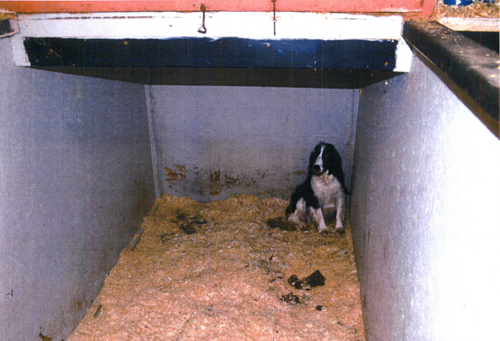 In mass-breeding facilities, adult breeding dogs are confined for years and bred repeatedly. Physical damage may be treatable; the psychological damage and mental suffering
may require extensive rehabilitation or may be irreversible.
Photos below show outdoor kennels with lack of shade for protection from heat
and lack of proper shelter for protection from elements.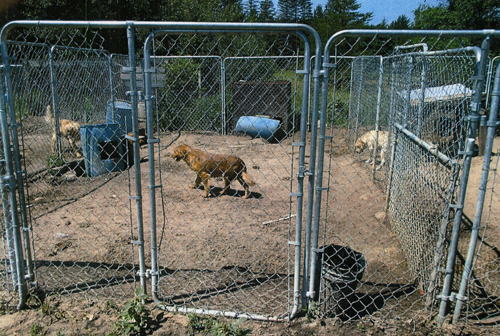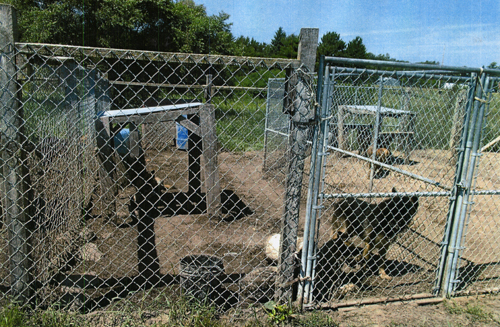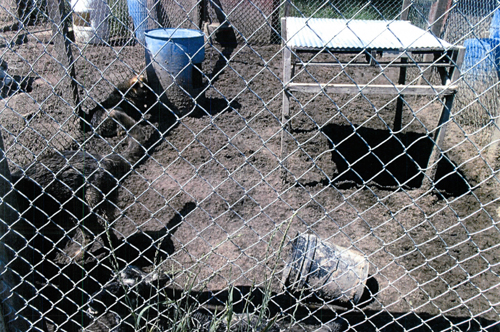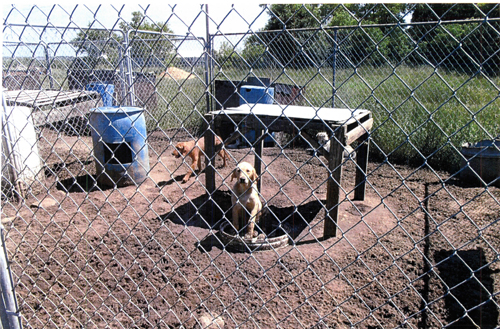 Physical, environmental conditions are not the only factors to be considered when evaluating proper care. Performance standards, such as veterinary care, proper nutrition, socialization and enrichment practices, compatible grouping, grooming, and other factors, also influence an animal's well-being.
A decision was made by the Cass County Sheriff Investigator to seize all of the animals from the kennel — 102 dogs and 29 puppies. The Cass County Sheriff Office did what others had refused to do for years — enforce Minnesota laws.
The animals were documented by and transported to the Animal Humane Society, where staff and volunteers helped care for and treat all of the seized animals. As the holding period lasted over three months, the mother dogs started having puppies and the count grew to over 200.
The animals seized
Many of the dogs seized had typical "puppy mill" conditions. The veterinary exam showed a variety of ailments, including hookworms, round worms, flea bites, ear infections, mammary tumors, rotting teeth, luxating patellas, hernias, scars, long nails, scabby coats, some tails were docked, some puppies were anemic, one dog had entropion, and one dog was pregnant and diagnosed with pyometra, resulting in a uterus full of full-size deceased puppies.
As expected, the physical wounds and diseases were only half the story. Many of the animals also showed psychological distress.
One dog, in particular, a Golden Retriever now named Annie, who was fostered and cared for by RAGOM, is a female who was bred repeatedly. When first seized, she had hookworms, eye infections, cherry eye, ear infections, severe dental disease (four teeth were pulled), leg scars, a thin, scabby coat, and a benign tumor. She was also 10 years old — and pregnant.

But her mental state was even worse. Denise Anderman from RAGOM described Annie's condition: "Annie is now in a safe and calm home but she spends 90% of her time sitting in her open crate. The sadness in her eyes is heart-breaking. This is typical of what we see in puppy mills. We can heal the physical wounds but you never fully heal the psychological wounds. She will never be a normal dog. The person who adopts her will need to understand that, and give her patience and kindness."
The prosecution
The Cass County Attorney's Office filed a nine count criminal complaint charging Deborah Rowell with violations of MN Chapter 343 and Chapter 346.39.
As the animals had been seized, this was both a civil and a criminal case, creating multiple motions that ended up extending the holding time of the animals. After more than three months from the date of seizure, the courts transferred ownership so the animals could be adopted and re-homed (civil action).
• Register of Actions: Case No. 11-CR-13-1444 (criminal)

• Register of Actions: Case No. 11-CV-13-1381 (civil)

• Example of one judge's order (civil): Denying a motion
Shortly before the trial date, a plea agreement was made in criminal court (posted October 14, 2013).
• The plea was an Alford Plea.

• The breeder pleaded guilty to and was convicted of one count (a misdemeanor — failure to provide proper shelter and shade). Eight other charges were dismissed.

• This breeder was fined $50, and given a 90-day jail sentenced, which was stayed. (No Order of Restitution was imposed, which would have required the breeder to help pay for the treatment, care and keeping of the animals.)

• No order was made preventing Deborah Rowell from owning, possessing or breeding dogs or other animals.

• No probation was ordered. The breeder is required to allow police to inspect her kennels.
While it is a huge victory that the animals were seized and not returned, the plea agreement was weak with few conditions. This breeder can continue breeding and, as of this date, is breeding and selling dogs.
The goal: To learn; to support.
Most cases have some victories and some disappointments.
But in every situation, we can learn. How can we help authorities so they have the knowledge, skills and confidence required to effectively enforce animal protection laws in Minnesota? What do they need? How can we support them?
Animal Folks is on a mission to do just that.
UPDATE: After the conviction and after the Commercial Breeder Law was passed, the MN Board of Animal Health granted a state license to this dog breeder to operate. Animal Folks attempted to work with the MN Board of Animal Health (BAH) to resolve this issue. On June 27, 2017, Animal Folks sued the BAH for violation of the Commercial Breeder Law. The Commercial Breeder Law states the Board must refuse to issue a license to a commercial breeder who has been convicted of cruelty to animals (Minn. Stat. sec. 347.58 subd. e2). For further explanation of the lawsuit, go to: Lawsuit: BAH
VIDEO:
The Animal Humane Society (AHS) cared for the dogs and puppies seized from this facility. AHS produced a video of this rescue: The long journey home
ARTICLES
• 07-19-13: More than 130 dogs seized from dog breeder in Pine River, MN
• 07-20-13: Minnesota dog breeder charged with multiple counts
• 07-30-13: Minnesota dog breeder has history of shelter issues
• 10-30-13: Breeder Charged for Deplorable Conditions, Still Allowed to Breed
Please help protect animals by donating to Animal Folks.